Religious School Blog
We Return
09/09/2018 12:16:08 PM
Amy Claver
| | |
| --- | --- |
| Author | |
| Date Added | |
| Automatically create summary | |
| Summary | |
It's the return that's the hardest. A friend of mine recently came back from a trip to Europe. After being back for four days, he told me he was finally able to sleep through the night and feels more acclimated to the Central time zone again. I have been back and forth to Europe several times and can transition to wherever I go really well. But it's the return that is hard for me.
Interestingly, we are in the season of return. Teshuvah has been the word of the day for weeks now as we prepare ourselves for the High Holy Days. We are doing a lot of turning- toward God and each other and turning away from all that keeps us from actualizing our potential and leading our best lives. It isn't easy. When I examine my narrow places, I see many clearly. Doing something about them takes a lot of work, a willingness to change, and having conversations that I don't want to have. It's a lot more fun and more comfortable to keep going forward and not look back to see where I took wrong turns.
But that is the work of this season. We are all returning in some ways. Summer vacations are over. The new Jewish year has begun and the new school year has begun. Put them together and what do you get? Religious school begins on Saturday, 22 September. See you soon!
Please save these dates!
Saturday, 22 September: Religious school grades K-7
Monday, 1 October: Simchat Torah, 6pm dinner (RSVP by 27 Sept) and 7pm Torah Processions
Friday, 5 October: Koleinu family Shabbat service at 7pm
Sunday, 7 October: Apple Picking (RSVP by 5 Oct)
Tuesday, 9 October: Lehrhaus grades 8-10
Amy Claver is the chair of the Religious Education committee at Ezra Habonim, the Niles Township Jewish Congregation and the mother of two students.
Sun, April 2 2023
11 Nisan 5783
Next Koleinu on April 14th 7:30PM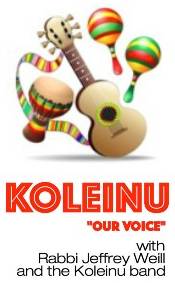 Shabbat Ruach Will Return!
April 21st, 7:30pm
All are welcome!
______________________
Join EHNTJC In Supporting Ukraine!

Our Social Action Committee recommends you consider these organizations for your donation:
---
Sun, April 2 2023 11 Nisan 5783